Beena Poudyal
Adviser : Nepal Museum Association
CURRICULUM VITAE
Photo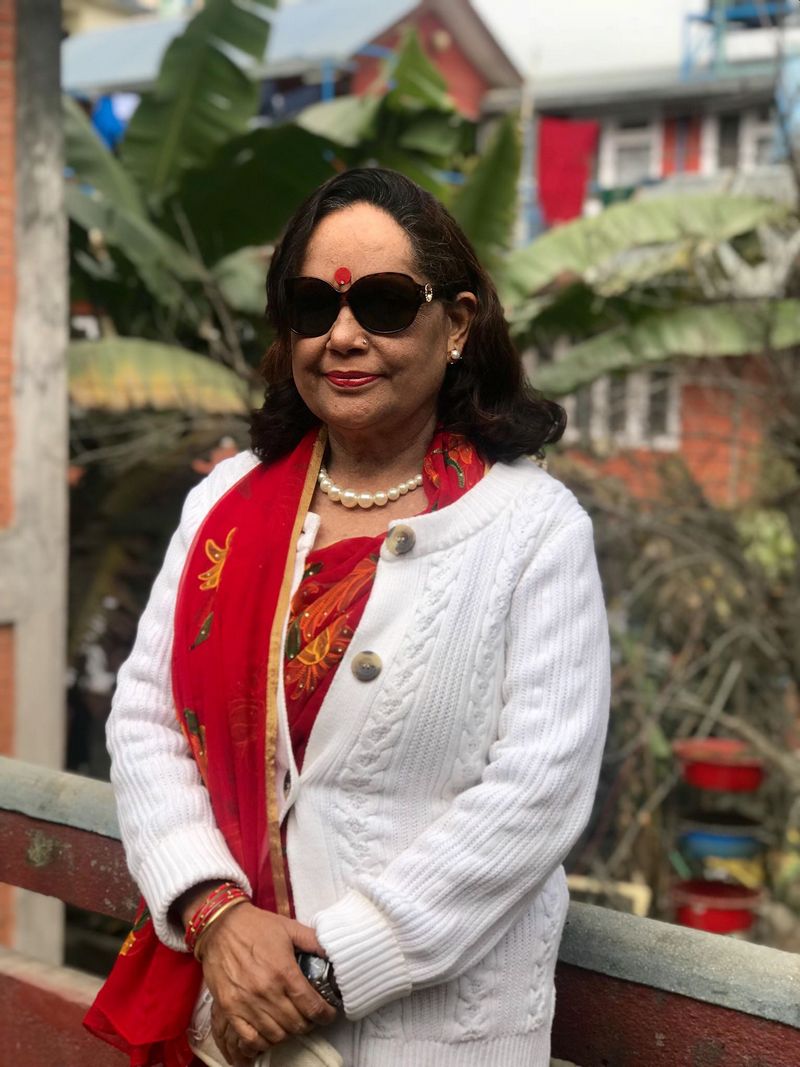 Personal Detail
| | | |
| --- | --- | --- |
| Name | : | Professor Beena Poudyal, Ph.D. |
| Date of Birth | : | 1956 Oct (2013 BS) |
| Father's Name | : | Ram Raj Poudyal |
| Grandfather's Name | : | Prem Raj Poudyal |
| Address | : | Post Box No 5576, Nayabazar, Katmandu |
| Tel | : | 4359535 , 9803030166 |
| Email | : | beena poudyal @ gmail.com |
Education
| | | |
| --- | --- | --- |
| 1970, S.L.C | | SLC Board H.M.G.; Nepal |
| 1972, I.A | | Tribhuvan University; Nepal |
| 1975, B.A | | Tribhuvan University; Nepal |
| 1978, M.A | | Tribhuvan University; Nepal |
| 1991, PhD | | Banaras Hindu University; (B.H.U) India |
Profession
| | | |
| --- | --- | --- |
| Head of department, Professor | | Central Department Of Nepalese History Culture and Archaeology; Tribhuvan University; Kirtipur |
| Patan Samukta Campus | | 2035.6.6. (1978, oct.22) Part time |
| Patan Samukta Campus | | 2035.10.22 Temporary (Assistant lecturer) |
| Patan Samukta Campus | | 2040.2.15 (Permanent) |
| Patan Samukta Campus | | 2047.5.1. Promoted to Lecturer |
| Central Department of NeHCA (Culture), Kirtipur | | 2048.4.12.(Transfer) |
| Central Department of NeHCA, Kirtipur | | 2054.9.13 Promoted to Professor |
| Central Department of NeHCA, Kirtipur | | 2065.12.19 Promoted to Professor |
| Head of Central Dep. of NeHCA | | 2065.5.1- 2069.4.32 |
Professional Training
Language Training: German Language – International Language Campus, T.U Katmandu; 1981
Social Training: Girls Scout Preliminary Training Course and Ranger Course – Nepal Scout, 1977-80
Radio Training: Radio Program Course – Held under the auspices of UNESCO, BBC and Radio Nepal; 1972
Tourist. Guide Training: Hotel Management and Tourism Department: 1980
Insurance Agent Training Rastriya Beema Santhan; 1993
Research Methodology Training: CNAS, Tribhuan University 1996
National Development Service (NDS) Tribhuvan University, Nepal 1977.
Work Experience
A. Lecturer: Nepal Academy of Tourism and Hotel Management Training Center; Ravi Bhawan (Topic: Nepalese Culture, Art and Architecture Iconography)
B. Modern Management Institute; Kathmandu (Topic: Nepalese Culture, Iconography, Archaeology)
C. Himalayan Institute Of Tourism Management; Kathmandu (Topic: Nepalese culture, Art and Architecture)
D. MS Danish Association for International Co-Operation, Nepal (Nepalese culture, Religion)
E. Cultural Destination Nepal, (Nepalese Culture, Religion, Iconography)
F. Ideal Nepal (Nepalese Culture, Iconography)
G. Freelance Tourist Guide: Since 1980 (Language German and English)
Affiliation
Member : T.U. Pragik Parisad Academic Council, Tribhuvan University (2065-8-19 / 2067-8-18)
Member: Research Committee, Faculty of Humanities and Social Sciences, T.U.
Chairman: Subject Committee, NeHCA (Culture), T.U.
Member: Subject Committee, Buddhist Study, T.U.
General Secretary: Research Academica for Humanism and Jaya Prithvi Bahadur Singh (RAFHAJ)
Member: South Asians for Human Rights. (SAHR)
Founder and Vice President: Women's Development Foundation, Nepal (WDFN)
Member: Welfare Centre for Energetic Women (WCEW)
I.Member : Nepal Heritage Society (NHS)
Member: Management Board Center for Nepal and Asian Studies, (CNAS), T.U.
Member: Akhaa Daan Samaaj.
Editor
Nepalese Culture Vol X and XI (Journal of central department of NeHCA, T.U.)
Culture and Preservation (Journal of CUTSON)
Research Guidance (Thesis)
M.A. (NeHCA) and P.G.D.(Buddhist Study) No.of Students 35 (Thirty five) awarded.
Ph.D. Research Supervisor, No. of Students 3 (Three) awarded.
Ph.D. Research Expert, No.of Students 8 (eight) awarded.
Ph.D. Research Supervisor No.of Students 6 (six) Continue.
Ph.D. Research Expert No.of Student 6 (Six) Continue.
Seminar Participation:
Paper presented on "Women and conflict minimization" organized by seven different social service organizations on 8th march 2003, on occasion of Women's Day.
Speaker of the "Mother for social change," an interaction program organized by today's youth magazine and Dr. Thakur Nath Pant memorial trust on 31st November,2003.
Paper Personated on Regional workshop on engendering citizenship education for Asian South Pacific Bureau (ASPBAE), 2003
Participation in south Asian for Human Right (SAHR), Delhi, 2005
Participation in south Asian for Human Right (SAHR), Pakistan, 2005
Seminar Paper in Wetlands in Hindu Religion and Culture, FEM, CNAS 6th Jan 2006
Paper personated, on Ist National Folklore Congress Nepali folklore society, 2007
Paper presented on 3rd international Folklore Congress Nepali folklore society, 2009
Paper Presented on Folk Life of Danuwar, Nepali Folklore Society, 2011.
Paper presentation on "Promoting Culture for peace in Nepal," UNESCO Kathmandu and National Federation of UNESCO clubes. 29-30 nov.2010.
Paper Presentation on "Tourism and Nepali Women," Pokharli didi bahini Samuha.
Paper Presentation on "Women and Culture", World view Nepal (Bishwaparidrishya, Nepal) July 8th, 2012.
Paper Presentation on ''Tourism and Sustainability, Nepal Tourism Board, 2010.
Paper Presentation on 'Research Mythology" different eight papers 2061-2068. Central department .of culture.
Project Works
Shiva Linga Of Katmandu Valley –Centre for Nepal and Asian studies; T. U. 1995
A brief Study of Bishalnagar – Centre for Nepal and Asian studies; T. U. 1998
Uma Mamahesvara of Katmandu Valley – Research Center Tribhuvan University. 1998
Shiva Samhara(Bhairava) murti of Katmandu valley – Humanities of social science, Dean's Office 2001
Vishnu Vibhava (Incarnation) murti of Katmandu Valley – CNAS; T. U.2002
Reviving and Mainstreaming the Music and Folk Songs of Western Nepal (Research con.)
The Astral Divinities of Kathmandu Valley and Terai.
Research
Thesis for M.A. degree
"Some sculpture of National Museum," (supervisor, Professor Dr Hit Narayan Jha, 1978 Tribhuvan University Kritipur)
Thesis for Ph, D. degree
"Saiva Sculpture of Kathmandu Valley", (Supervisor, Professor Dr Lallanaji Gopal, Banaras Hindu University (BHU) 1991), Vanarash, India
Village Profile "Ghantu Dance of Lamjung District (TU 1977)
Publication
A. Book
Hindu Death Rites (1998)
Nepali Murtikala ra Chitrakala (2000) (Nepalese sculpture and paintings)
Servesor mahadeva (2060)
Bhivida Ayam ma Nepali Mahila (2010)
Kathmandu ka umamaheshor ra bhairava murtiharu (2060)
Kathmandu ka Vishnu Vibhava murti ra Chitaharu (2005)
Veda puranaka kehi ratnaharu (2005 and 2009)
Veda puranaka kehi ratnaharu II part (2010)
Ved puranaka Kehi ratnaharu III Part (2012)
Hindu Iconography
National Museum of Chauni (Manuscript)
Research Methodology (press)
Person dedicated in Nepalese Culture and journalism (Manuscript)
Dev Raj Indra (Manuscript)
B. More than Four Dozen Research Article about Nepali Culture and Iconography Published in Reputed Journals
C. More than a dozen-book review published in reputed Journals
D. More than 160 live interview Telecast from Radio and T.V.
Medal
Mahendra Bidya Bhusan 'Ka'
Tribhuvan B.B.Dirga Sewa Padak, T.U.
Dhana Bajra Bidwat Briti, CNAS, T.U.
Rastriya Sikhsa Puraskar, T.U.
Honour
Rastriya Nari Samman, 2004.
Japan Sakai Lions club & imanishi memorial fellowship Trust award 2007.
Shree Manjang sewa samaj samman 2008.
Mahendra Namuna high school samman 2007.
Maiya Basu Samman, Panta Pratisthan,2009.
Rastriya Pratibha Puraskar, Nepal Goverment 2011.
Joshi Research institute Samman, 2011.
Naya Raj Panta Sodha Samman, 2011.
Nepal Akaa (Eye) Bank, Tilganga Akhaa Pratisthan Samman, Prasamsa/ Patra, 2012.
Nei Chandra Dhenu Puraskar 2013.
Nepal Pragya Sanskriti Puraskar 2017.
Judge:
Little Princess Nepal, 2012.
Travel
India, Pakistan, Tibet, Sri Lanka, Germany, Austria, Switzerland, France, Malaysia, Liechtenstein, U.S.A., (United Arab Emirates) U.A.E. and many region of Nepal
Hobbies
Reading books, Swimming, Table Tennis and Trekking