Professor Dr. Tri Ratna Manandhar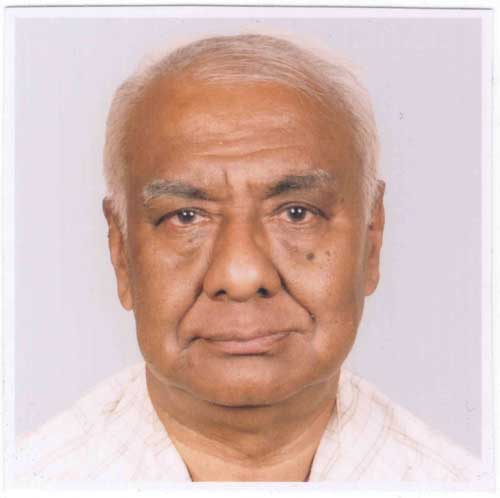 Name:                               Tri Ratna N. Manandhar
Address:                            158 Samakhusi Marga, Galkopakha, Kathmandu 29, Nepal.
Educational Qualifications:   M.A.; Ph.D.(Tribhuvan), D.H.S.(Cambridge)
Designation:                       Retd. Professor of History, Tribhuvan University
Date of Birth                       15 January 1945,  Kathmandu                                               
Previous Academic Posts:    
Lecturer in History, Tribhuvan University (1967-80)
Associate Professor in History, Tribhuvan University (1980-86)
Professor in History, Tribhuvan University (1986-till retirement in 2008)
Chairman, Nepal Studies Subject Committee (1987-90 &1992-95)
Head, Central Department of History (1986-1987 &1992-96)
Member, Tribhuvan University Council, (1993-95)
Member, Royal Nepal Academy, Prajna Sabha (1994-99)
Member, Academy Service Commission (1994-99)                                               
Member, National Curriculum Council (1997-2002)
Member, Executive Council, T.U. (1993-95 & 1996-2001)
Dean, Faculty of Humanities & Social Sciences (1996-2004)
Member-Secretary, Academic Council, T.U. (1996-99)
Chairman, History Curriculum Committee, HSEB (1999-2003)
Vice Chancellor, Lumbini Buddhist University (2010–14)

Publications:                             
Eighteen books on the history and culture of Nepal.


More than 150 papers published in different national and international journals and magazines.
International Conferences:     
Actively participated in international conferences held in India, Bangladesh, Sri Lanka, Bhutan, Hong Kong, Thailand, Indonesia, Malaysia, Singapore, China, Japan, Taiwan, Philippines, Netherlands, United Kingdom, United States of America.
Academic Visits:                     
Pakistan (Lahore and Islamabad); Tibet (Lhasa, Gyantse, and Shigatse);  Belgium (Brussels and Antwerpen); Qatar (Doha).
Medals and Awards:              
Mahendra Vidya Bhushan (1967)
Busak Gold Medal (1982)
Education Day Medal (1990)
Rudraraj Award (1994)
National Talent Award (2001)
Gorkha Dakshin Bahu III (2003)
Bal Chandra Award (2004)
Jana Sewa Shree III (2010)
Amar Singh Memorial Award (2010)
Mohan Lal Khin Award (2014)
Letters of Honour:                 

Kathmandu Municipality (1997)
Paradise UNESCO Club (2005)
Universal Peace Federation (2006)
Thahity Manandhar Guthi (2007)
Gyan Gun Academy (2008)
T.U. Teachers' Association (2008)
Oscar College of Film Studies (2009)
Kendriya Manandhar Sangh (2010)
Narhari Nath Trust (2010)
Newa De Dabu (2011)
Maya Foundation (2013)
Cultural Art Centre (2013)
Sirjana College of Fine Arts (2013)  
Joshi Research Institute (2014)
Gana Mahavihar (2014)
Surya Ratna Foundation (2015)
Symbiotic Society of Nepal (2016)
Maa Indrayani Cooperatives (2016)
Scholarship, Grant, and Fellowship:                             
British Council Scholarship:
-Higher studies at the Cambridge University, UK (1976-77)
International Visitors' Program:

-Academic visit to different universities in the United States of America (1995)
Ford Foundation Grant:

-Participation in the international conference at Jakarta, Indonesia (1998)
IIAS Senior Visiting Fellowship:
-Conduct research at the International Institute for Asian Studies, The Netherlands (2003)
Major Publications:                
1) Some Aspects of Rana Rule in Nepal (1983)
2) Nepal-Tibet Crisis (1984)
3) Nepal: the Years of Trouble (1986)
4) Jang Bahadur in the History of Nepal (1992)
5)  Crime and Punishment in Nepal (1985)   -Co- author
6) Nepal's Quinquennial Missions to China (1986) – Co-author
7) Social Service in Nepal: A Historical Perspective (1986)-Co-author
8) Social History of Nepal (1993) –Co-author
9) Date Conversion Chart (2002)- Edited.
10) Co-author of some other books including Military History, Police History,  Administrative History,  Political History etc.
Institutional Affiliations:   
1) Vice Chairperson, Bhimsen Thapa Academy
2) Executive Member, Rudraraj Sahitya Sewa Samiti
3) Executive Member, Ganesh Man Academy
4) Executive Member, Thahity Manandhar Guthi
5) Member, Managing Committee, Shanti Sikshya Mandir
6) Member, Managing Committee, Peoples' Campus
7) Member, Social Science Committee, Nepal Academy
8) Advisor, Pathik Foundation
9) Chairperson, New Year National Committee,1135 NS (2014-15)
10) Member, Nepal Bhasa Academy ( Prajnik Parishad)
11) Advisor, Nepal – Russia Friendship and Cultural Association
12) Advisor, Nepal – Canada Friendship and Cultural Association
Engagements in Buddhist Studies:
Born in a Buddhist family, regular contacts with Buddhist Associations and different Viharas of Nepal and Abroad.
Organized a seminar on the "Location of Ancient Kapilvastu" at Tribhuvan University (1976).
Delivered a lecture to the students of Cambridge University (U.K) on Nepalese Buddhism (1977).
Presented a paper on "Buddhism and Nepalese Culture" in International Colloquium on Buddhism and future of Humanity (2001).
Played a major role as the Dean of Humanities and Social Sciences, in the introduction of Buddhist Studies at the Post Graduate and Master's level at Tribhuvan University.
Worked as a coordinator to frame curriculum on Buddhist Studies for Lumbini Buddhist University (2005).
Actively participated in national seminars of Dharmodaya Sabha, (the oldest Buddhist Association of Nepal).
Participated in the UN Vesak Day at Mahachulalongkorn Rajavidyalaya University, Thailand (2010).
Participated in the International Conference on Theravada Buddhism at Mahamakut Buddhist University, Thailand (2010).
Paid a visit to the different monasteries of Tibet (2010).
Paid a visit to a number of Buddhist temples in different parts of China (2011).
Paid a visit to different Buddhist associations of Japan (2011)

Participated as a distinguished guest at the foundation of Buddhist University at Sanchi , India (2012).

Presented a paper on Buddhism in Nepal in Lumbini Symposium at Lumbini ( January 2013).

Gave a special lecture on "Contemporary Buddhism of Nepal Valley" in International Conference at Calcutta University ( 2 Jan. 2014)

Participated in the 2nd Dharma Dhamma Conference at Sanchi, India as a distinguished speaker (March 2014)

Worked as member of Organising Committee, International Buddhist Conference, Lumbini ( 15-18 November, 2014)